Panasonic TX-65JZ2000E
OLED TV
Beskrivelse
65" OLED-TV med HCX Pro AI-billedprocessor, der sørger for skarpe og præcise billeder.
Master HDR Prefessionel OLED panel, hvor de bedste har kalibreret TV'et til den ypperligste.
Justeret i billedet af professionelle fra Hollywood Studios.
Dolby Atmos lyd "Tuned by Technics" hvor man er i centrum, uanset hvad der høres fra TV'et.
Højttalere i siden af TV-et sørger for endnu bredere lyd-billede med Soundscape 360 PRO
Dolby Vision IQ for et af markedets brugte HDR formater.
Ekstern subwoofer kan tilsluttes, for endnu dybere bas gengivelse (ekstra)
Betagende filmisk billed ydeevne
Det professionelle Master HDR OLED Professional Edition og HCX AI-processoren, giver en enestående lysstyrke og kontrast. Det profesionelle 4K OLED-panel er fremstillet i Japan og HCX AI-processoren sørger for sideløbende øjeblikkeligt at analysere for at gøre farvenøjagtighed, kontrast og klarhed, den bedste i sin klasse.
Fordybende lyd - så man føler, at man virkelig er der
Det unikke 360 grader Soundscape Pro integrerede højttalersystem, flytter dig ud af sofaen og ud midt i begivenhederne. De opadvendte og nu sidevendte højttalere, finjusteret af Technics, bruger Dolby Atmos, så du kan fordybe dig i filmen.
Den intelligente måde til at opnå fantastisk billede og lyd
Med Auto AI sørger JZ2000 for at analysere det indgående signal og justere øjeblikkeligt billede- og lydindstillinger. Auto AI kender indstillingerne for sport, musik, filmiske scener og meget mere - så du intet skal foretage dig. Bare læn dig tilbage og nyd dit TV.
Optimal farve og lysstyrke - under alle forhold
Multi HDR-format - Ved fuld understøttelse af alle HDR-formater (High Dynamic Range), sørger dette flagskib af et TV for, at du hele tiden er sikret den bedst mulige ydeevne - uanset billedkilde. Lysstyrke og farve er optimeret scene for scene og med den fulde understøttelse af Dolby Vision, HLG, HDR10 og den nye HDR10+.
Dolby Vision IQ for perfekte billeder under alle lysforhold
Det intelligente Dolby Vision IQ format optimere TV'et, så du får et perfekt billede i dit rum hele tiden. Uanset om det er en mørk eller lys stue, tilpasser Dolby Vision IQ sig dynamisk hele tiden rummet og det skiftende lys.
Gaming med fantastisk hastighed, opløsning og bevægelse
Den nye Game Mode Extreme betyder at den nye JZ2000 serie understøtter HDMI 2.1 HFR (High Frame Rates) og VRR (Variable Refresh Rate) til et nyt niveau af realisme, der kræves af nye spilkonsoller og enheder. HCX AI-Pro proccesoren næsten halvere desuden inputforsinkelsen.
Energimærke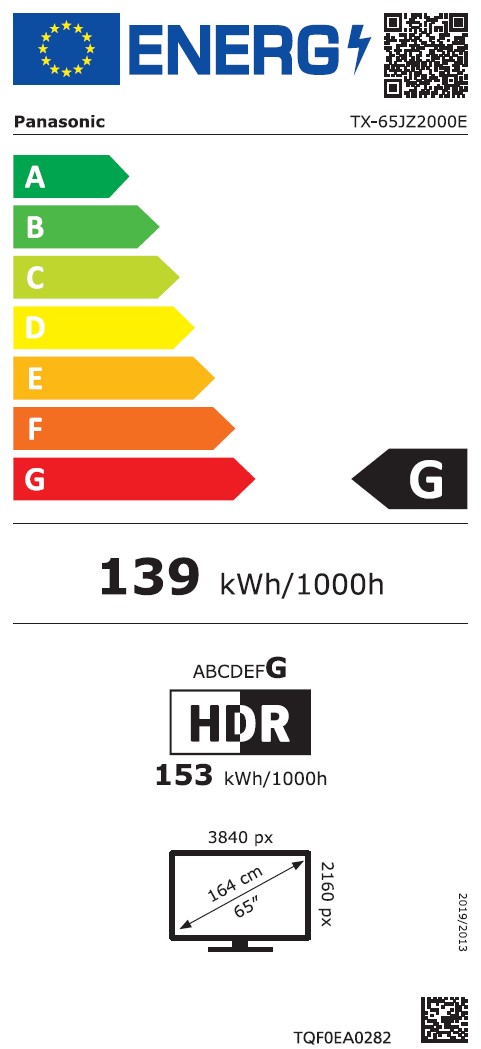 Specifikationer
Specifikationer
Picture
Panel Technology4K OLED/Master HDR OLED Professional Edition/Luminance Booster Technology
Resolution (W x H)4K Ultra HD/3,840 x 2,160
Motion TechnologySmooth Motion Drive Pro
Multi HDR Support*2HDR10+ Adaptive/HDR10/HLG/DolbyVision IQ/HLG Photo*16
Dimming/ContrastOLED/Ultimate Contrast
Colour SpaceWide Colour Spectrum
Dolby Vision IQY
HDR10+ AdaptiveY
Filmmaker ModeY (with intelligent sensing)
Processor/EngineHCX Pro AI Processor
Auto AI for PictureY
Picture ModeAuto AI/Dynamic/Normal/Cinema/True Cinema/FILMMAKER MODE/Custom/Professional Photo/Professional1 (isfccc)/Professional2 (isfccc)/Sport/Game/DolbyVision (Vivid/IQ/Dark)/Netflix Calibrated Mode
isf ModeY
Sound
Dolby AtmosY
Surround360°Soundscape Pro
Speaker Output125 W (15 W x 2 + 15 W x 3 + 15 W x 2 + 20 W x 1) 7ch + built-in woofer
Auto AI for SoundY
Sound ModeAuto AI/Standard/Music/Speech/Stadium/User
Smart Features*1
Smart TVmy Home Screen6.0
my SceneryY
Google Assistant*3 Built-inY
Works with Google AssistantY
Works with Alexa*4Y
Panasonic TV Remote 3 App (swipe & share)Y
Home Network*5Y (Server / Client)
IP Home ControlY
In-House TV Streaming (SATIP/DVB-IP)Y (Server / Client)
Web Browser*6Y
Easy Mirroring/Chromecast built-inEasy Mirroring
Media PlayerY (2.0)*17
Support FormatAVI/HEVC/MKV/WMV/MP4/M4v/FLV/3GPP/VRO/VOB/TS/PS, MP3/AAC/WMA Pro/FLAC/Apple Lossless/WAV, JPEG/HLG Photo
Connectivity
Wireless LAN Built-inY
Bluetooth
Bluetooth*7Y HID /HOGP (Keyboard /Mouse) A2DP (Stereo AudioIn Single /Out Dual)
Bluetooth Audio Link*8Y
Terminal
HDMI Inputs*94 (side1, bottom3)
HDCPY (HDCP2.3)
HDMI Support FeatureHDMI2.1 Support Feature
eARC (Enhanced Audio Return Channel) (Input 2 )
ALLM (Auto Low Latency Mode ) (All inputs)
VRR (Variable Refresh Rate) (input 1 & 2)
4K HFR (High Frame Rate ) (input 1 & 2)
HDMI Signal Power LinkY
USB3 (2 side, 1 bottom; USB 3.0 x 1, USB 2.0 x 2)
Ethernet1
CI (Common Interface)2 (CI Plus, Version 1.4, ECP)
Analogue Video InputM3 x 1 (bottom)
Component Video Input shared with Composite?
Digital Audio Output (Optical)1 (bottom)
Digital Audio Output (Coax)?
PC input (VGA) + PC Audio In?
Headphone Output1 (side; switchable to Subwoofer)
Broadcasting
Digital TunerDVB-T/T2/DVB-S2/DVB-C
Analogue TunerY
Data BroadcastingHbb TV
Teletext Reception2000P
USB-HDD Recording*11Y (w/ Rewind live TV)
Multi Window2T PAP/PAT
HDAVI ControlY
Voice GuidanceY
EPGY
On Screen Display Menu Languages27 Languages*18
Twin TunerY
Design
DesignSwivel Design
Visible Screen Size (diagonal)164 cm / 65 inches
Screen Resolution3,840 x 2,160
Power SupplyAC 220 - 240 V, 50/60 Hz
Ambient Sensor (CATS)Y
General
Included Accessory*14TV Remote
Dimensions (W x H x D) (w/o stand)1,448 x 888 x 69 mm
Dimensions (W x H x D) (with stand)*151,448 x 910 x 350 mm
Dimension Pedestal (W x D)390 x 350 mm
VESA CompatibleY
VESA Dimension (W x H)300 x 300 mm
NOTE
*1 Features and specifications are subject to change without prior notification. Internet connection is required with smart functions.
*2 All models; Supporting HDR does not increase the peak brightness capabilities of the TV panel. Full HD & HD models; The ability to send a non 4K HDR signal via HDMI depends fully on the playback device. The majority of 4K Blu-ray discs require HDCP2.2 on TV to play back HDR, whereas the HDMI input on this TV support only HDCP1.4; accordingly not all HDR contents are guaranteed to be enjoyed on the TV.
*3 Google, Android TV and Chromecast built-in a trademarks of Google LLC. Google Assistant is not available in certain languages and countries. Requires internet connection. Subscriptions for services may be required.
*4 Amazon, Alexa is not available in certain languages and countries. Requires internet connection. Subscriptions for services may be required. Amazon, Alexa and all related logos are trademarks of Amazon.com, Inc. or its affiliates.
*5 File formats that are not supported by your Network Contents server (DLNA compatible server, etc.) cannot be played.
*6 The Web Browser cannot display some web pages correctly. And viewable contents by the Web Browser are subject to the following conditions;
- viewable contents may vary depend on models,
- viewable contents may differ from those for PC,
- viewable contents may be limited.
*7 In case the password of the registered device or user is known by a third party, there is a risk of unauthorized entries. Keep your password safe. Panasonic will make no warranty for the unauthorised entries. To prevent a risk of interception, unauthorised entries and hacking, set up the proper security settings (encryption setting).
*8 HID (Human Interface Device Profile) compliant keyboards are available. A2DP (Advanced Audio Distribution Profile) compliant audio devices are available. The Bluetooth® word mark and logos are owned by the Bluetooth SIG, Inc. and any use of such marks by Panasonic Corporation is under license.
*9 When a Bluetooth device is connected to the TV, it is possible that the Bluetooth audio output may not be synchronized (i.e. be delayed) with relation to the images on the screen. This is not a defect of the TV or the device. The delay time will differ depending on the device.
*10 The terms HDMI, HDMI High-Definition Multimedia Interface, and the HDMI Logo are trademarks or registered trademarks of HDMI Licensing Administrator, Inc.
*11 ©2020 Advanced Micro Devices, Inc. All rights reserved. AMD and FreeSync and combinations thereof are trademarks of Advanced Micro Devices, Inc.
*12 This feature requires a USB hard drive or flash drive with a capacity of at least 160 GB.
*13 Based on IEC 62087 Ed.2 measurement method.
*14 Energy consumption XYZ kWh per year, based on the power consumption of the television operating 4 hours per day for 365 days. The actual energy consumption will depend on how the television is used.
*15 Not all the accessories are listed here.
*16 Dimension with recommended pedestal style.
*17 Supporting HSP standardized by CTA-2072 (HDR Still Photo Interface)
*18 To playback HDR, a HDR source is required (H.264 or H.265(ST2084 or HLG format)).
*19 27 Languages (English / German / Italian / Spanish / French / Danish /Finnish / Swedish / Dutch / Hungarian / Czech / Romanian / Bulgarian / Polish / Norwegian / Estonian / Latvian / Lithuanian / Portuguese / Turkish / Greek / Croatian / Slovak / Slovenian / Serbian / Russian / Macedonian)