Panasonic TX-58HX810E
LED TV
Beskrivelse
58" TV med HCX billedprocessor, der sørger for skarpe og præcise billeder.
Local dimming i LED-panelet, sørger for optimal kontrast styring
Justeret i billedet af professionelle fra Hollywood Studios.
Dolby Atmos lyd hvor man er i centrum, uanset hvad der høres fra TV'et.
Multi HDR formater som f.eks. HDR10+
5 stjerner i What Hi-Fi! - Det anerkendte magasin har testet HX810 serien og givet den de maksimale 5 stjerner med roser som "Fremragende kontrast, der sikrer man kan se detaljerne i mørke scener. Fyldig og naturlig gengivelse af farver og billedprocessorens håndtering af bevægelser i billedet.
Du kan læse hele testen her What Hi-Fi produkt anmeldelse
Billede finindstillet i Hollywood - 4K HDR-TV er indstillet i Hollywood til billedperfektion af brancheeksperter til at levere naturtro detaljer og farver.
HCX-processor - Hollywood-afstemt billedbehandling, 3D LUT, HDR og 4K Remaster-teknologi til farve- og billednøjagtighed, der er tro mod filmskaberens vision.
HDR10+ / Dolby Vision - HDR-billedoptimering scene-for-scene med Dolby Vision og HDR10+ UHD Blu-Ray-diske og streaming - for at opnå den bedste farve, kontrast og lysstyrke.
Dolby Atmos - Forbløffende klarhed, rigdom og dybde i lyden til at skabe et 3D-lydfelt, der omslutter dig i atmosfæren.
HDR biografskærm - HDR Bright Panel Plus producerer skarpe, klarer HDR-billeder med spektakulære højdepunkter - takket være en effektiv skærm og ekstra lys LED-baggrundsbelysning. Giver fremragende ydeevne, selv på de mest solrige dage.
Local Dimming - God LED-skærmkontrast mellem lyse og mørke områder af billedet takket være zoneinddelt styring af baggrundsbelysningspanelet.
Energimærke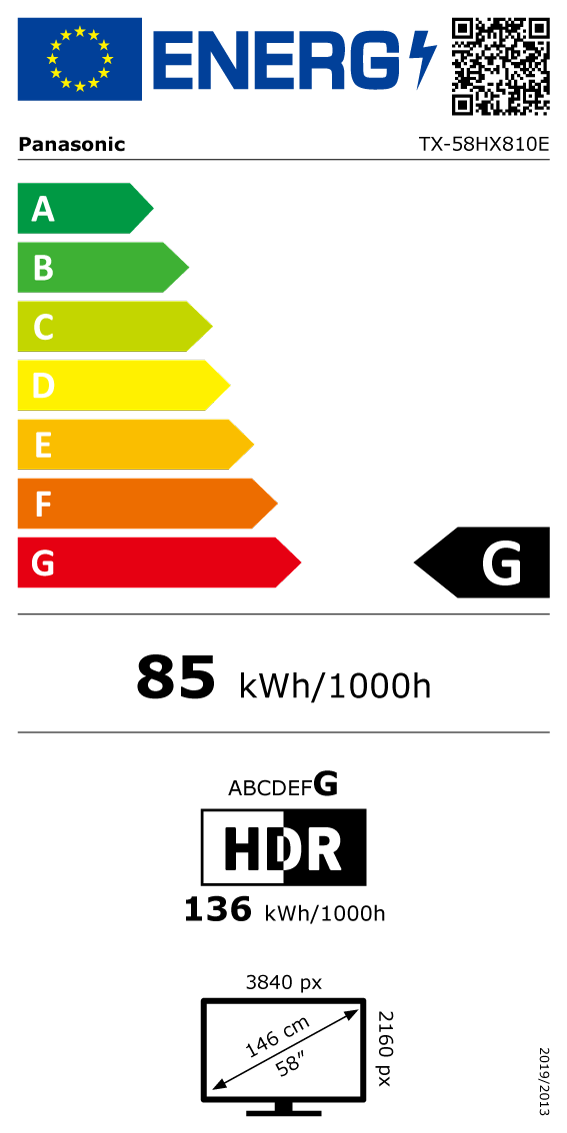 Specifikationer
Display
Panel4K ULTRA HD / HDR Bright Panel Plus
Screen Resolution3,840 (W) x 2,160 (H)
Panel Drive4K 1800 Hz BMR IFC
Picture ModeDynamic/Normal/Cinema/True Cinema/Custom/Sport/Game/DolbyVision (Vivid/Bright/Dark)
Multi HDR Support*2HDR10+/HDR10/HLG/DolbyVision/HLG Photo*16
HDR Brightness EnhancerY
Dynamic HDR EffectY
ContrastBrilliant Contrast
Colour SpaceWide Colour Spectrum
Advanced Video Processor/EngineHCX Processor
Local DimmingY
Sound Quality Dolby AtmosY
SurroundCinema Suround Pro
Speaker Output20 W (10 W x 2)
Sound ModeStandard/Music/Speech/Stadium/User
Smart Features
Smart TVmy Home Screen5.0
Works with Google Assistant*3Y
Works with Alexa*4Y
Voice GuidanceY
EPGY
On Screen Display Menu Languages27 Languages*17
Digital TVDVB-T/T2/DVB-S2/DVB-C
Wireless LAN Built-inY
TV Anywhere*5Y
In-House TV Streaming (DVB-IP)Y (Client)
Panasonic TV Remote AppsY
Swipe & ShareY
Media PlayerY (2.0)*18
Support FormatAVI/HEVC/MKV/WMV/MP4/M4v/FLV/3GPP/VRO/VOB/TS/PS, MP3/AAC/WMA Pro/FLAC/Apple Lossless/WAV, JPEG/HLG Photo
Web Browser*6Y
MirroringY (Easy Mirroring)
Home Network*7Y (Server / Client)
Bluetooth*8Y
HID / HOGP (Keyboard/Mouse)
A2DP (Audio In/Out)
Bluetooth Audio Link*9Y
IP Home ControlY
Data BroadcastingHbb TV
Teletext Reception1500P
USB-HDD Recording*10Y (w/ Rewind live TV)
Multi Window1T PAP/PIP/PAT
HDAVI ControlY
Visible Screen Size (diagonal)146 cm / 58 inches
Screen Resolution3,840 (W) x 2,160 (H)
Power SupplyAC 220 - 240 V, 50/60 Hz
Ambient Sensor (CATS)Y
Analogue TunerY
HDMI*13 HDMI2 (side), 1 (rear)
HDMI (4K 60/50p with HDCP2.2)3
Support FeatureAudio Return Channel (Input 2)
HDMI2.1 Auto low Latency mode
USB2 (1 side, 1 rear; USB 3.0 x 1, USB 2.0 x 1)
Ethernet1
CI (Common Interface)1 (CI Plus, Version 1.4, ECP)
Analogue Video InputRCA phono type x 1 (rear)
Component Video Input shared with CompositeRCA phono type x 1 (rear)
Digital Audio Output (Optical)1 (rear)
Headphone Output1 (side; switchable to Subwoofer)
GENERAL
Included Accessory*14TV Remote
Dimensions (W x H x D) (w/o stand)1,297 x 759 x 65mm
Dimensions (W x H x D) (with stand)*151,297 x 810 x 335mm
Weight (w/o stand)20.5kg
Weight (with stand)21.5kg
Dimension Pedestal (W x D)562 x 335 mm
VESA CompatibleY
VESA Dimension (W x H)400 x 200 mm
Outer Boxed Unit (W x H x D)1,461 x 899 x 192mm
Total Boxed Weight28kg
NOTE*1 Ultra HD PremiumTM logo is a trademark of the UHD Alliance, Inc.
*2 All models; Supporting HDR does not increase the peak brightness capabilities of the TV panel. Full HD & HD models; The ability to send a non 4K HDR signal via HDMI depends fully on the playback device. The majority of 4K Blu-ray discs require HDCP2.2 on TV to play back HDR, whereas the HDMI input on this TV support only HDCP1.4; accordingly not all HDR contents are guaranteed to be enjoyed on the TV.
*3 The Google Assistant is not available in certain languages and countries. Requires internet connection. Availability of services varies by country and language. Subscriptions for services may be required. Google is a trademark of Google LLC.
*4 Amazon, Alexa and all related logos are trademarks of Amazon.com, Inc. or its affiliates.
*5 Due to network conditions or certain broadcaster restrictions, this function may not be available.
*6 The Web Browser cannot display some web pages correctly. And viewable contents by the Web Browser are subject to the following conditions;
- viewable contents may vary depend on models,
- viewable contents may differ from those for PC,
- viewable contents may be limited.
*7 File formats that are not supported by your Network Contents server (DLNA compatible server, etc.) cannot be played.
*8 HID (Human Interface Device Profile) compliant keyboards are available. A2DP (Advanced Audio Distribution Profile) compliant audio devices are available. The Bluetooth® word mark and logos are owned by the Bluetooth SIG, Inc. and any use of such marks by Panasonic Corporation is under license.
*9 When a Bluetooth device is connected to the TV, it is possible that the Bluetooth audio output may not be synchronized (i.e. be delayed) with relation to the images on the screen. This is not a defect of the TV or the device. The delay time will differ depending on the device.
*10 This feature requires a USB hard drive or flash drive with a capacity of at least 160 GB.
*11 Based on IEC 62087 Ed.2 measurement method.
*12 Energy consumption XYZ kWh per year, based on the power consumption of the television operating 4 hours per day for 365 days. The actual energy consumption will depend on how the television is used.
*13 The terms HDMI and HDMI High-Definition Multimedia Interface, and the HDMI Logo are trademarks or registered trademarks of HDMI Licensing, LLC in the United States and other countries.
*14 Not all the accessories are listed here.
*15 Dimension with recommended pedestal style.
*16 Supporting HSP standardized by CTA-2072 (HDR Still Photo Interface)
*17 27 Languages (English / German / Italian / Spanish / French / Danish /Finnish / Swedish / Dutch / Hungarian / Czech / Romanian / Bulgarian / Polish / Norwegian / Estonian / Latvian / Lithuanian / Portuguese / Turkish / Greek / Croatian / Slovak / Slovenian / Serbian / Russian / Macedonian)
*18 To playback HDR, a HDR source is required (H.264 or H.265(ST2084 or HLG format)).