Panasonic TX-55JZ980
OLED TV
Beskrivelse
55" OLED-TV med HCX PRO AI billedprocessor, der sørger for skarpe og præcise billeder.
HDR OLED panel, når billedkvalitet er alt!
Justeret i billedet af professionelle fra Hollywood Studios.
Ekstern subwoofer kan tilsluttes, for endnu dybere bas gengivelse (ekstra)
Se alt. Mærk alt.
Lige her. Lige nu. Almindeligt bliver filmisk. Det er mere end blot at se en film. Det handler om at blive fortryllet. Vores 4K OLED TV er skabt med professionelle filmskabere og giver dig et fantastisk billede, der bogstaveligt talt tager vejret fra dig. Med 3D surround sound til at begejstre sanserne er som om du er lige der i scenen. Alle vores teknologier er skabt til bevægelse og inspiration—at gøre hverdagen filmisk.
Mærk dramaet udfolde sig med biograflyd
Dolby Atmos® - Vores lydsystem ledsager det fantastiske billede, der fører dig fra sofaen til filmens hjerte. Integrerede højttalere og lydbehandling arbejder sammen med Dolby Atmos®-teknologi for at levere fordybende lyd - løfter underholdning til nye niveauer.
Biograflignende billedydeevne på næste niveau
OLED-panel - 4K OLED TV har individuelt oplyste celler for at skabe naturlige farver og høj kontrast – hvor sort virkelig er sort. Vores nyeste HCX Pro AI-processor analyserer øjeblikkeligt billedet; Finjusterer farvenøjagtighed, kontrast og klarhed for at øge billedets ydeevne.
Optimalt billede - uanset kilde
Ved at understøtte alle HDR formater, sikrer vores TV den bedst mulige ydeevne - uanset billedkilde. Lysstyrke og farve optimeres scene for scene; uanset om kilden er Dolby Vision, HLG, HDR10 eller HDR10+ format.
Styr dit TV håndfrit med hjælp fra Google
Tænd for dit Panasonic TV ved hjælp af stemmen uden brug af fjernbetjeningen - bare spørg Google. Du kan tænde TV'et, justere lydstyrken og meget mere kun ved brug af stemmen. Bare sig "OK Google" på en Google Assistent-aktiveret enhed for at komme i gang.
Gaming med fantastisk hastighed, opløsning og bevægelse
Game Mode Extreme - Game Mode Extreme betyder, at vores nye 4K OLED TV er klar til handling. Mens HDMI 2.1 understøttes med HFR (High Frame Rates), VRR (Variable Refresh) og AMD FreeSync Premium til nye niveauer af realisme, der kræves af de nyeste spilenheder.
Letflydende gaming på den store OLED-skærm
AMD Freesync Premium - Vores 2021 OLED-TV er AMD Freesync Premium-certificeret. De er designet til at give den bedste spiloplevelse fra de nyeste og mest spændende spilenheder. Nyd et letflydende 4K-billede på den store farverige skærm, og begiv dig ud i spilverdenen.
Energimærke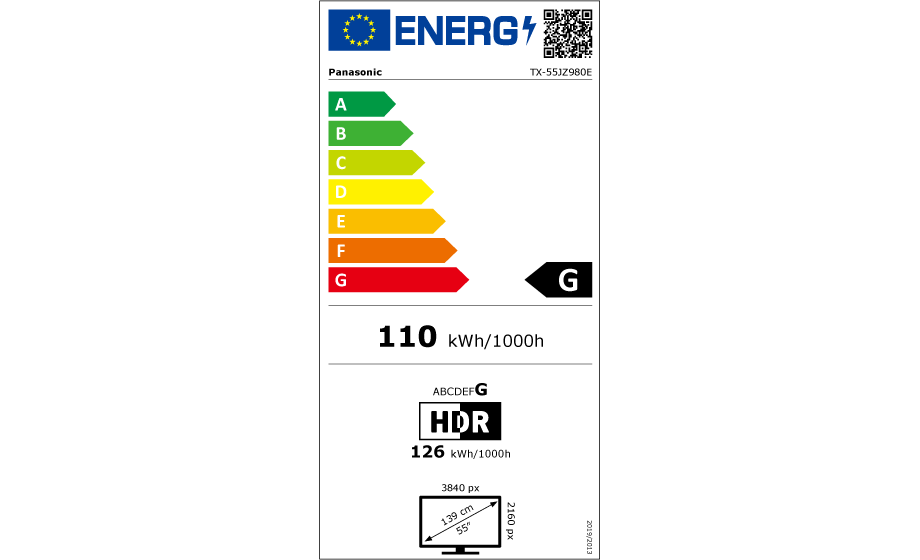 Specifikationer
Picture
Panel Technology4K OLED
Resolution (W x H)4K Ultra HD/3,840 x 2,160
Motion TechnologySmooth Motion Drive Pro
Multi HDR Support*2HDR10+ Adaptive/HDR10/HLG/DolbyVision IQ/HLG Photo*17
Dimming/ContrastOLED/Ultimate Contrast
Colour SpaceWide Colour Spectrum
Dolby Vision IQY
HDR10+ AdaptiveY
Filmmaker ModeY (with intelligent sensing)
Processor/EngineHCX Pro AI Processor
Auto AI for PictureY
Picture ModeAuto AI/Dynamic/Normal/Cinema/True Cinema/FILMMAKER MODE/Custom/Professional Photo/Professional1 (isfccc)/Professional2 (isfccc)/Sport/Game/DolbyVision (Vivid/IQ/Dark)/Netflix Calibrated Mode
isf ModeY
Calman READYY (Internal Pattern Generator)
Sound
Dolby AtmosY
SurroundCinema Surround Pro
Speaker Output30 W (15 W x 2)
Auto AI for Sound?
Sound ModeStandard/Music/Speech/Stadium/User
Smart Features*1
Smart TVmy Home Screen6.0
my SceneryY
Google Assistant*3 Built-inY
Works with Google AssistantY
Alexa Built-in*4Y
Works with AlexaY
Panasonic TV Remote 3 App (swipe & share)Y
Home Network*5Y (Server / Client)
IP Home ControlY
In-House TV Streaming (SATIP/DVB-IP)Y (Server / Client)
Web Browser*6Y
Easy Mirroring/Chromecast built-inEasy Mirroring
Media PlayerY (2.0)*18
Support FormatAVI/HEVC/MKV/WMV/MP4/M4v/FLV/3GPP/VRO/VOB/TS/PS/AV1, MP3/AAC/WMA Pro/FLAC/Apple Lossless/WAV, JPEG/HLG Photo
Connectivity
Wireless LAN Built-in*7Y
Bluetooth*8Y HID / HOGP (Keyboard/Mouse) A2DP (Stereo AudioIn Single / Out Dual)
Bluetooth Audio Link*9Y
Terminal
HDMI Inputs*104 (side1, bottom3)
HDCPY (HDCP2.3)
HDMI Support FeatureHDMI2.1 Support Feature
eARC (Enhanced Audio Return Channel) (Input 2 )
ALLM (Auto Low Latency Mode ) (All inputs)
VRR (Variable Refresh Rate) (input 1 & 2)
4K HFR (High Frame Rate ) (input 1 & 2)
AMD Freesync Premium*11Y (Input 1 & 2)
HDMI Signal Power LinkY
USB3 (2 side, 1 bottom; USB 3.0 x 1, USB 2.0 x 2)
Ethernet1
CI (Common Interface)2 (CI Plus, Version 1.4, ECP)
Analogue Video InputM3 x 1 (bottom)
Component Video Input shared with Composite?
Digital Audio Output (Optical)1 (bottom)
Digital Audio Output (Coax)?
PC input (VGA) + PC Audio In?
Headphone Output1 (side; switchable to Subwoofer)
Broadcasting
Digital TunerDVB-T/T2/DVB-S2/DVB-C
Analogue TunerY
Data BroadcastingHbb TV
Teletext Reception2000P
USB-HDD Recording*12Y (w/ Rewind live TV)
Multi Window2T PAP/PAT
HDAVI ControlY
Voice GuidanceY
EPGY
On Screen Display Menu Languages27 Languages*19
Twin TunerY
Visible Screen Size (diagonal)139 cm / 55 inches
Screen Resolution3,840 x 2,160
Power SupplyAC 220 - 240 V, 50/60 Hz
Rated Power Consumption350 W
Ambient Sensor (CATS)Y
General
Included Accessory*15TV Remote
Dimensions (W x H x D) (w/o stand)1,228 x 712 x 58 mm
Dimensions (W x H x D) (with stand)*161,228 x 772 x 348 mm
Weight (w/o stand)21.0 kg
Weight (with stand)25.5 kg
VESA CompatibleY
Outer Boxed Unit (W x H x D)1,586 x 852 x 229 mm
Total Boxed Weight33 kg
NOTE
*1 Features and specifications are subject to change without prior notification. Internet connection is required with smart functions.
*2 All models; Supporting HDR does not increase the peak brightness capabilities of the TV panel. Full HD & HD models; The ability to send a non 4K HDR signal via HDMI depends fully on the playback device. The majority of 4K Blu-ray discs require HDCP2.2 on TV to play back HDR, whereas the HDMI input on this TV support only HDCP1.4; accordingly not all HDR contents are guaranteed to be enjoyed on the TV.
*3 Google, Android TV and Chromecast built-in a trademarks of Google LLC. Google Assistant is not available in certain languages and countries. Requires internet connection. Subscriptions for services may be required.
*4 Amazon, Alexa is not available in certain languages and countries. Requires internet connection. Subscriptions for services may be required. Amazon, Alexa and all related logos are trademarks of Amazon.com, Inc. or its affiliates.
*5 File formats that are not supported by your Network Contents server (DLNA compatible server, etc.) cannot be played.
*6 The Web Browser cannot display some web pages correctly. And viewable contents by the Web Browser are subject to the following conditions;
- viewable contents may vary depend on models,
- viewable contents may differ from those for PC,
- viewable contents may be limited.
*7 In case the password of the registered device or user is known by a third party, there is a risk of unauthorized entries. Keep your password safe. Panasonic will make no warranty for the unauthorised entries. To prevent a risk of interception, unauthorised entries and hacking, set up the proper security settings (encryption setting).
*8 HID (Human Interface Device Profile) compliant keyboards are available. A2DP (Advanced Audio Distribution Profile) compliant audio devices are available. The Bluetooth® word mark and logos are owned by the Bluetooth SIG, Inc. and any use of such marks by Panasonic Corporation is under license.
*9 When a Bluetooth device is connected to the TV, it is possible that the Bluetooth audio output may not be synchronized (i.e. be delayed) with relation to the images on the screen. This is not a defect of the TV or the device. The delay time will differ depending on the device.
*10 The terms HDMI, HDMI High-Definition Multimedia Interface, and the HDMI Logo are trademarks or registered trademarks of HDMI Licensing Administrator, Inc.
*11 ©2020 Advanced Micro Devices, Inc. All rights reserved. AMD and FreeSync and combinations thereof are trademarks of Advanced Micro Devices, Inc.
*12 This feature requires a USB hard drive or flash drive with a capacity of at least 160 GB.
*13 Based on IEC 62087 Ed.2 measurement method.
*14 Energy consumption XYZ kWh per year, based on the power consumption of the television operating 4 hours per day for 365 days. The actual energy consumption will depend on how the television is used.
*15 Not all the accessories are listed here.
*16 Dimension with recommended pedestal style.
*17 Supporting HSP standardized by CTA-2072 (HDR Still Photo Interface)
*18 To playback HDR, a HDR source is required (H.264 or H.265(ST2084 or HLG format)).
*19 27 Languages (English / German / Italian / Spanish / French / Danish /Finnish / Swedish / Dutch / Hungarian / Czech / Romanian / Bulgarian / Polish / Norwegian / Estonian / Latvian / Lithuanian / Portuguese / Turkish / Greek / Croatian / Slovak / Slovenian / Serbian / Russian / Macedonian)