Panasonic TX-40FS400E
LED TV
Beskrivelse
HDR - Klar til at afspille højdynamisk indhold med livagtige lyse områder
HDR-indhold (High Dynamic Range) på HDR kompatible tv leverer billeder, der er meget tæt på den måde, dine øjne ser den virkelige verden på. Dybsort kombineres med meget lyse områder for at skabe et realisme niveau, der ikke tidligere har været muligt på et TV.
USB- HDD-optagelse - Den nemmeste måde at gemme dine yndlingsorogrammer på
Du kan optage tv-programmer på en USB-hukommelsesnøgle eller en ekstern harddisk ved blot at trykke på REC-knappen på fjernbetjeningen.
*Funktionen kræver en USB-harddisk eller flash-drev med en kapacitet på mindst 160GB.
Spil- / Sportstilstande - Nyd dit favorit indhold i den optimale betragtningstilstand.
Panasonics TV giver dig den bedste billedtilstand at betragte. Sportstilstand kombinere livagtige farvetoner med en omgivende effekt til at se fodbold og andet sport fra det virkelige liv. Og spiltilstandens hurtige billedfølsomhed i spiltilstandens forøger fornøjelsen ved at spille med en mere direkte spilfornemmelse.
In-House TV Streaming - Se tv-udsendelser i alle rum uden at skulle bruge et antennestik
Dagene er forbi, hvor du var nødt til at placere dit tv tæt på et antennestik. TV'er, der kan konfigureres som In-House TV Streaming-klienter, kan simpelthen streame udsendelser (via LAN, netadaptere eller endda Wi-Fi), når de først er blevet konverteret til internetprotokolsignaler af en In-House TV Streaming-server som f.eks. et eksklusivt TV eller Set-top-boks.
*Forbehold tages for ustabile eller dårlige netværk.
My Home Screen 3.0 - Nem adgang til indholdet med startskærm, der kan tilpasses den enkelte kundes behov
Nyd indholdet med "1-trinsadgang". My Home Screen 3.0 kan tilpasses til at gøre det muligt let at få adgang til ofte anvendt indhold. Du kan designe din egen startskærme med et live-program, dine foretrukne apps', internetbogmærke og ofte anvendte enheder.
Swipe & Share - Del nemt indhold på din smartphone og tablet på din tv-skærm
Med swipe & Share kan du "smide" indhold fra smartphones og tablets over på din tv-skærm ved blot at stryge dine fingre opad på dine transportable enheders berøringsskærm.
Energimærke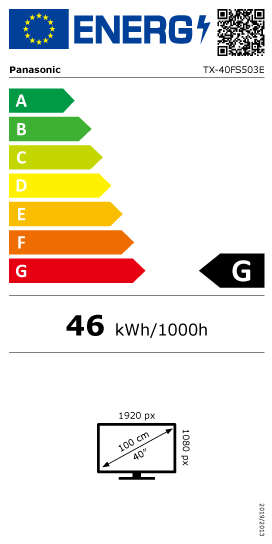 Specifikationer
Specifikationer
Display
PanelLED LCD
Screen Resolution1,920 (W) x 1,080 (H)
Panel Drive600 Hz BMR
Picture ModeDynamic/Normal/Cinema/True Cinema/Custom/Sport/Game
HDR Brightness Enhancer (auto/manual)Y
Muti HDR Support*15*HDR10, HLG
ContrastHigh Contrast
Adaptive Backlight DimmingAdaptive Backlight Dimming
Sound Quality
SurroundCinema Suround
Speaker Output20 W (10 W x 2)
Sound ModeStandard/Music/Speech/Stadium/User
Smart Features
Smart TVmy Home Screen (3.0)
Voice GuidanceY
EPGY
On Screen Display Menu Languages27 Languages*13
Wireless LAN Built-inY
In-House TV StreamingY (Client)
Panasonic TV Remote AppsY
Swipe & ShareY
Web Browser*4Y
Internet Apps*16Y
Easy MirroringY
DLNA*5Y (DTCP-IP/DMP/DMR/DMS)
IP Home Control (Crestron/Control4)Y
Media PlayerY (2.0)*14
Support FormatAVI/HEVC/MKV/WMV/MP4/M4v/FLV/3GPP/VRO/VOB/TS/PS, MP3/AAC/WMA Pro/FLAC/Apple Lossless/WAV, JPEG
HbbTVY
Teletext Reception1000P
USB-HDD Recording (w/ Rewind live TV)*7Y
Multi WindowPAT
HDAVI ControlY
Ambient Sensor (CATS)Y
Terminal
Digital Tuner ReceptionDVB-T/T2/DVB-C
Analogue TunerY
HDMI*102 (rear)
Support FeatureAudio Return Channel (Input 2)
USB2 (2 side; USB 2.0 x 2)
LAN Port1
CI (Common Interface)1 (CI Plus, Version 1.3)
Component Video Input shared with CompositeRCA phono type x 1 (rear)
Digital Audio Output (Optical)1 (rear)
Headphone Output1 (side)
General
Dimensions (W x H x D) (w/o stand)902 x 521 x 88 mm
Dimensions (W x H x D) (with stand)*12902 x 569 x 239 mm
Weight (w/o stand)8.0 kg
Weight (with stand)8.5 kg
VESA CompatibleY
VESA Dimension200 x 200 mm
NOTE*1Ultra HD PremiumTM logo is a trademark of the UHD Alliance, Inc.
NOTE*2THX and the THX logo are trademarks of THX Ltd. which are registered in some jurisdictions. The THX 3D logo is a trademark of THX Ltd. All rights reserved.
NOTE*3Due to network conditions or certain broadcaster restrictions, this function may not be available.
NOTE*4The Web Browser cannot display some web pages correctly. And viewable contents by the Web Browser are subject to the following conditions;
NOTEviewable contents may vary depend on models,
NOTEviewable contents may differ from those for PC,
NOTEviewable contents may be limited.
NOTE*5DLNA, the DLNA Logo and DLNA CERTIFIED are trademarks, service marks, or certification marks of the Digital Living Network Alliance.
NOTE*6HID (Human Interface Device Profile) compliant keyboards are available. A2DP (Advanced Audio Distribution Profile) compliant audio devices are available. The Bluetooth® word mark and logos are owned by the Bluetooth SIG, Inc. and any use of such marks by Panasonic Corporation is under license.
NOTE*7This feature requires a USB hard drive or flash drive with a capacity of at least 160 GB.
NOTE*8Based on IEC 62087 Ed.2 measurement method.
NOTE*9Energy consumption XYZ kWh per year, based on the power consumption of the television operating 4 hours per day for 365 days. The actual energy consumption will depend on how the television is used.
NOTE*10The terms HDMI and HDMI High-Definition Multimedia Interface, and the HDMI Logo are trademarks or registered trademarks of HDMI Licensing, LLC in the United States and other countries.
NOTE*11Not all the accessories are listed here.
NOTE*12Dimension with recommended pedestal style.
NOTE*1327 Languages (English / German / Italian / Spanish / French / Danish /Finnish / Swedish / Dutch / Hungarian / Czech / Romanian / Bulgarian / Polish / Norwegian / Estonian / Latvian / Lithuanian / Portuguese / Turkish / Greek / Croatian / Slovak / Slovenian / Serbian / Russian / Macedonian)
NOTE*14To playback HDR, a HDR source is required (H.264 or H.265(ST2084 or HLG format)).
NOTE*15All models Supporting HDR does not increase the peak brightness capabilities of the TV panel.
NOTEFull HD & HD models The ability to send a non 4K HDR signal via HDMI depends fully on the playback device. The majority of 4K Blu-ray discs require HDCP2.2 on TV to play back HDR, whereas the HDMI input on this TV support only HDCP1.4; accordingly not all HDR contents are guaranteed to be enjoyed on the TV.
NOTE*16Internet apps are provided by their respective service providers, and may be changed, interrupted, or discontinued at any time. Panasonic assumes no responsibility and makes no warranty for the availability or the continuity of the services.
NOTE*17When a Bluetooth device is connected to the TV, it is possible that the Bluetooth audio output may not be synchronized (i.e. be delayed) with relation to the images on the screen. This is not a defect of the TV or the device. The delay time will differ depending on the device.